The Drums // 14.11.2014 @ Molotow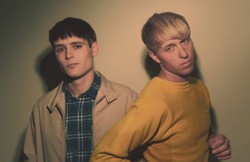 The Drums sind inzwischen zum Duo geschrumpft. Dem neusten Album Encyclopedia hat diese Reduktion sehr gut getan. Wie sich die Band aus Brooklyn jetzt live präsentiert, ob mit voller Besetzung gespielt oder der Sampler eingesetzt wird, bleibt abzuwarten. Encyclopedia ist massiv mit Hits bestückt, da ist es fast egal wie die Jungs ihren Sound live rüberbringen. Mit ihren Reminiszenzen an den klassischen britischen Gitarrenpop und Anleihen an Bands wie Field Mice, The Wake oder auch The Smiths wird ihr Auftritt ein einziger Höhepunkt sein.
The Drums spielen live am Freitag den 14. November im Molotow.